yaskawa robot
Yaskawa robot
We have led the world's industrial robot market since the first release of the all-electric industrial robot "MOTOMAN" in Japan in 1977.
Since that time, we have successively commercialized and marketed optimum robots for various uses, centering on arc welding, one of our areas of expertise, and including spot welding, handling, assembly, painting, transfer of liquid crystal panels, and transfer of semiconductor wafers. Recently, we have been enhancing our efforts in the food, pharmaceutical, cosmetic, and biomedical markets. Also, we continue to take on new challenges in further expand the fields where robots are applied.
Yaskawa robot Product Lineup
Yaskawa robot Arc welding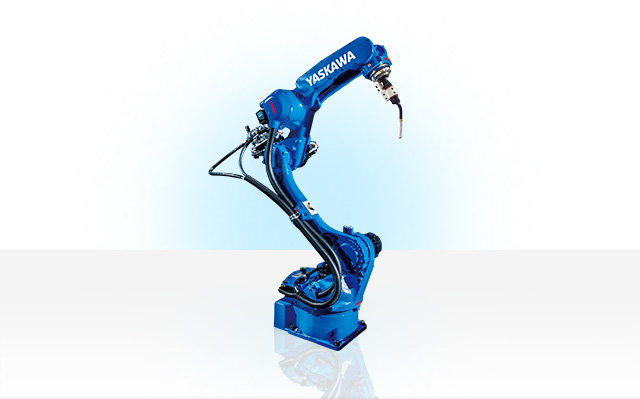 Arc welding robot
"Short Processing"  
Increase freedom in operation or compact and slim design have made the new robots more optimized for specific applications. High-density installation has contributed customer production line saving space. The facility which enables integrated process, rapid production and saving space is called "short processing".
Save Space and Energy
Structures, performance and functions designed for optimum application help you to downsize production facilities and save energy.
Easily avoid interference
With the 7th axis (E-axis), the arm can easily avoid interference with workpieces and jigs as well as keep the optimal torch posture by going around to the back of workpeices. Large workpievces can be handled and welding can be done the workpiece.
Use 50% less space with high density layout
With the robot on shelf or on the top of the positioner, welding can start from the top of the workpiece, and the installation space can be halved. If the robots are in close proximity, the arms can be easilty posed to avaoid intereference, and several robots can be placed in small space.
Increase operability and maintainability with built-in cables
Not only are the torch cables inside the U-arm, but the welding earth cable as well as the gas and air hoses are inside the base. This reduces the space in which the cables can move and stretches the cable's life.
Reduced power consumption helps lower running costs.
The servos are turned OFF automatically when the Robot is stopped for long period of time.
Yaskawa robot spot welding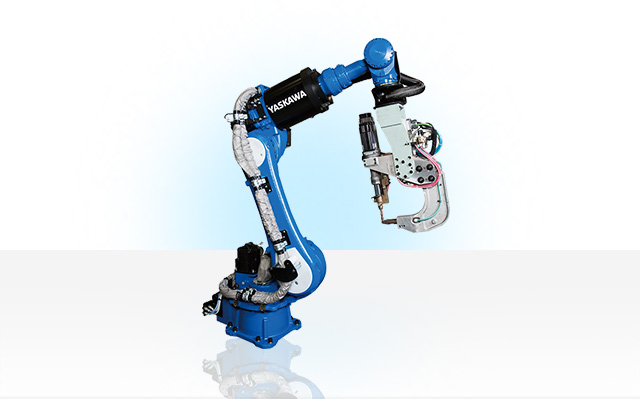 Spot welding robot
Yaskawa robot Handling Robot and Assembling robot
Save Space and Energy
The slimmer structure, new features and high performance enable you to downsize production facilities and save energy.
 HARDWARE
Best Performance in its class
The highest speed in the world has been achieved by using high-speed, low- inertia AC Servomotors and state-of-the-art control technology. A slimmer robot form has also been developed, while wrist allowable inertia has been increased.
Applicable in Severe Environment
The waterproof and dustproof structure (IP67 class level)*¹ at the wrist part enables the robot to operate in environments subjects to waterdrops and dust. *1: Available as an option for MH5S, MH5LS,MH6 and MH6S
DX200 Controller yaskawa robot
Dynamic Energy-efficient multiple yaskawa Robot Controller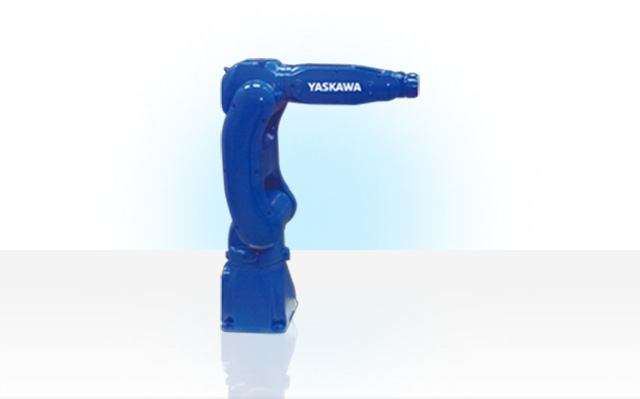 Handling/Assembling robot
Playback path confirmation
The playback path mode during a test operation can be confirmed by low speed test operation. This mode of teaching operation with the optimum path in minimal time possible while verufying the existence of interference with workpieces or jigs.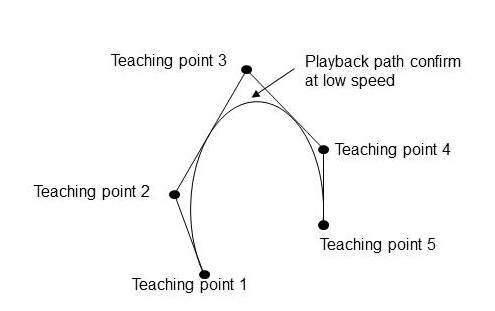 Interference Checking Function (Optional)
Interference between arms of densely installed Robots can be constantly monitored to automatically stop movement if a collision is likely to occur. (This prevents collisions between Robots caused by programming mistakes.) Constantly checks the interference between the robot arm ad up to 16 defined cubes to prevent the robot to collied with workpieces or peripheral jigs.
Minimized Safety Barrier(Optional)
The functional safety unit , which is configured with the redundant CPUs minimizes the area within the safety barrier by restricting the robot's operating area.
         •Safety barrier can be limited to only a minimum area to downsize production facilities
         •Zone limit switches can be eliminated for Robots in setting process.
Saving Energy
The servos are turned OFF automatically when the Robot is stopped for long period of time. Twenty four hour operation in which Robot is operating for 16 hours and on stand by for 8 hours
Yaskawa robot Collaborative Robot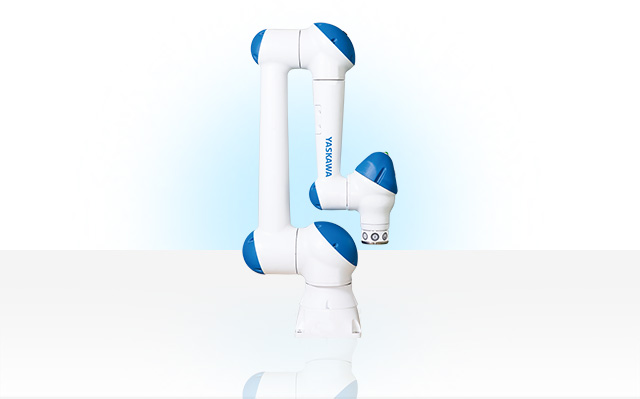 Collaborative Robot
Yaskawa robot Biomedical robot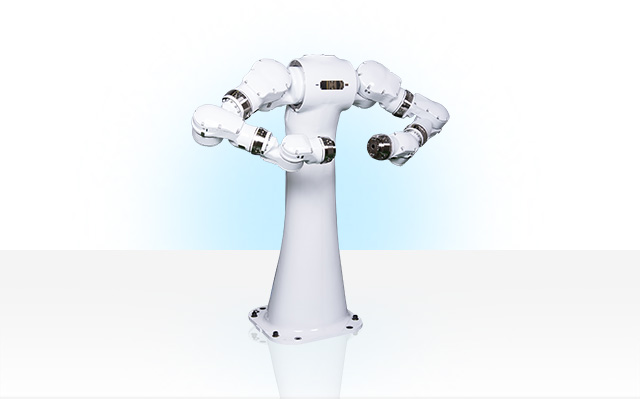 Biomedical robot
The new dual-arm robot is designed to resemble the human figure.                                   The robot has slim arms that are similar to a human's arms in size and with seven joints in each arm. This human-size robot enables to replace the manual work to the automate operation without changing the existing layout and facility. The coordinates operation of seven axes for each arm and one at wrist has made it possible to move efficiently with great dexterity requiring no further exclusive equipment for robots.
What does Dual-arm do?
New MOTOMAN design to Reduce Human Workload for better Labor Conditions & Pursuit of Human-Robot Coexistence
Improvement on Logistics process
  ♦ Dual arms for secure handling
  ♦ Continuous handling without a temporary stand or reverse jig
  ♦ Distributing parts for each process
Improvement on Assembling process
  ♦ Jigless assembly with dual arms
  ♦ Jigless positioning with dual arms
  ♦ High-accuracy assembly with high-speed, high precision movements
Yaskawa robot Palletizing robot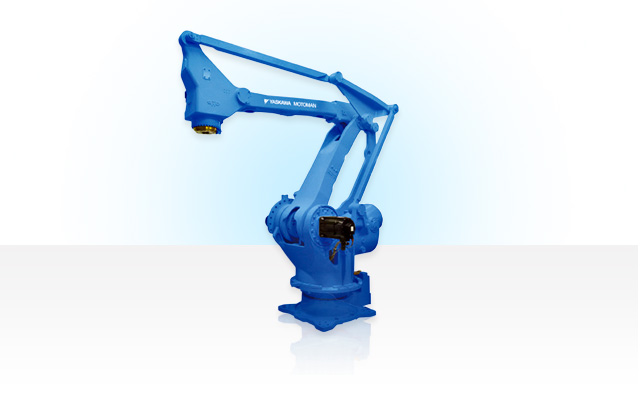 Palletizing robot
Complete Line up to Help Build Optimum Palletizing System
Higher Productivity
Performance, design and specialize software are optimized for palletizing and increase productivity
Smaller Space
Slim high- performance controller with optional functions reduces space required
Quicker Maintenance
Continually strives to improve monitoring, troubleshooting and design to reduce maintenance and recovery time from failures.
Yaskawa robot Press handling robot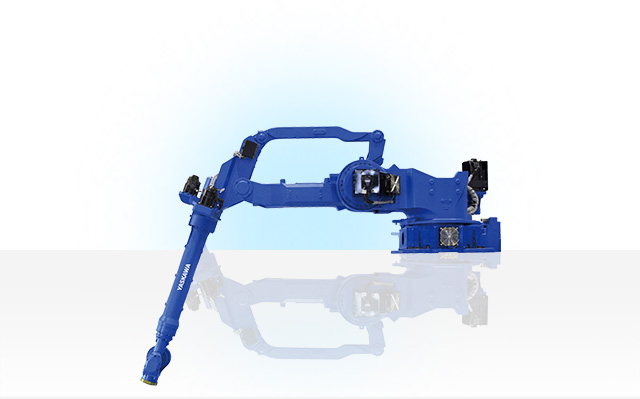 Press handling robot
Yaskawa robot Sealing/Cutting/Laser machining robot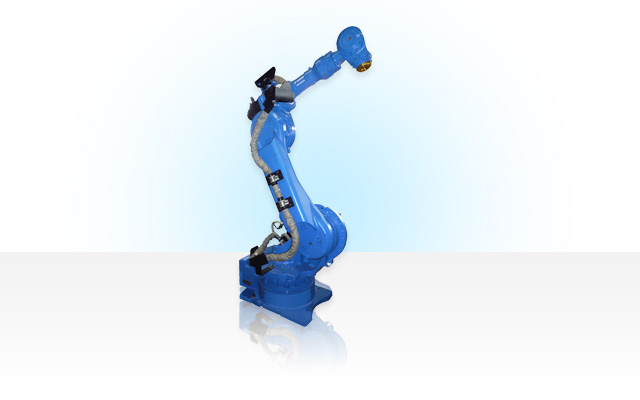 Sealing/Cutting/Laser machining robot
Yaskawa robot Deburring robot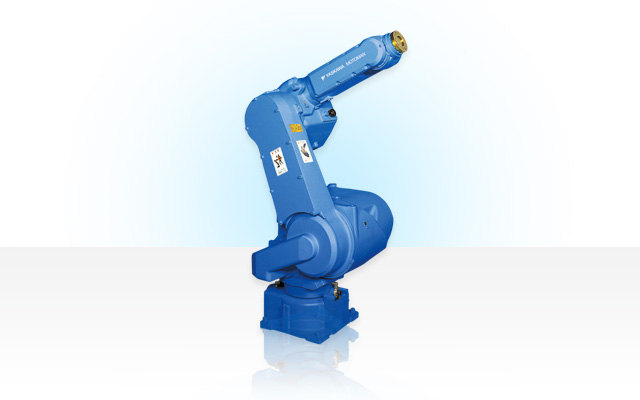 Deburring robot
Yaskawa robot Painting robot
Robot Optimized for Painting
MOTOMAN- EPX Series
Based on the concept of having a broad range of motion witha compact design, Yaskawa's MOTOMAN robots continue to evolve as optimized robot in functions and performance of each application. The rich line up in the MOTOMAN-EPX series provides robots with avriety of features for each type of workpiece, arms with internally routed hoses and a high performance controller. The best robot for the application can be chosen to ensure high quality painting.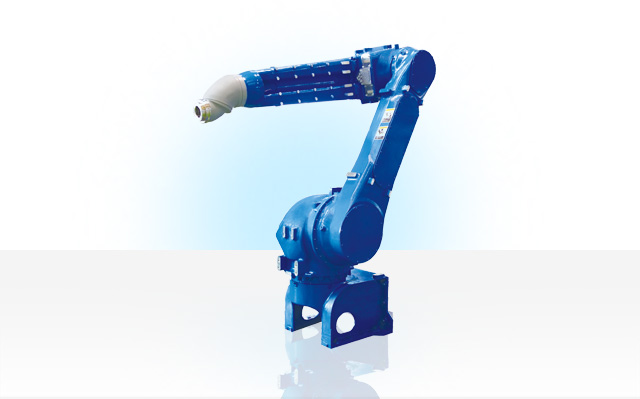 Painting robot
Yaskawa robot Glass substrates transfer robot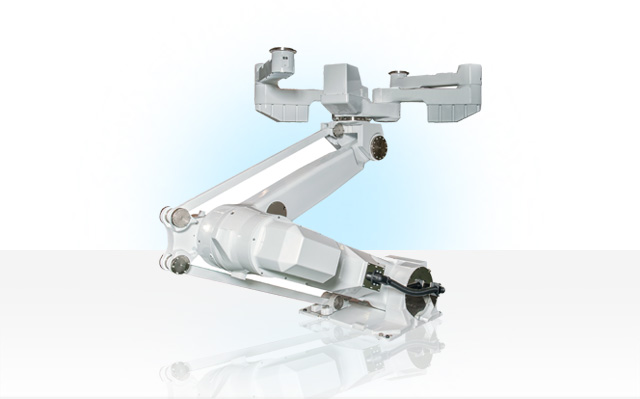 Glass substrates transfer robot
Yaskawa robot Semiconductor wafer transfer robot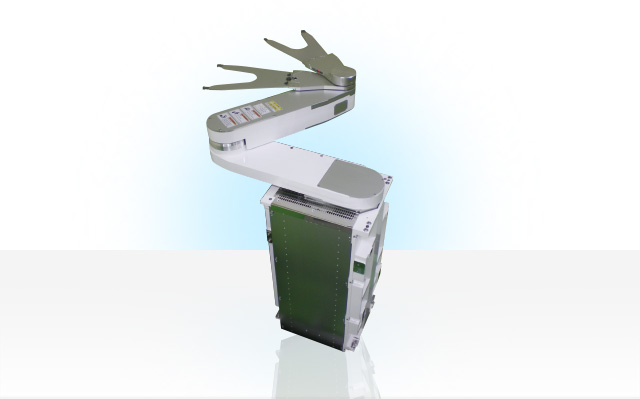 Semiconductor wafer transfer robot
Trở lại mục biến tần
Trở lại mục biến tần yaskawa
Các sản phẩm khác